Nellie Cameron - 'the Kiss of Death Girl'
The teenaged Nellie Cameron became a prostitute for no other reason than she wanted to be one. But she wasn't content with the sordid thrills of the life of a prostitute. She wasn't happy unless she was associated with violent men, and it is beyond any doubt that she encouraged them to violence... Jealousy over her was responsible for more than one murder. Cameron would be kidnapped, bashed, stabbed, slashed and shot by her criminal lovers, including Frank Green and Guido Calletti.

Born in 1912, Nellie Cameron hailed from a respectable middle-class home on Sydney's North Shore. In 1926, she ran away from home and became a prostitute, cocaine runner and a fence for stolen property. At the age of fifteen, when she met Norman Bruhn, she was a hooker on William and Palmer streets. With her beauty and criminal contacts, she had no need them to enter with Tilly Devine or any other madam.

She perfected the age-old game called 'gingering' in Australia. During sex with one of her clients, an accomplice would emerge from beneath the bed and take the client's wallet from his pants or jacket. At that point, coitus would be interrupted by angry banging on the door by another involved in the scam, Cameron, feigning panic, would exclaim it was the police or her irate husband, and urge the client to dress and depart by the back door. Keen to avoid the embarrassment of public prosecution or a beating, the customer would flee and usually not notice until later that his wallet was missing.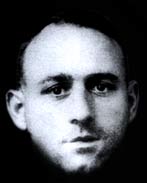 Guido Calletti
Calletti split his time between operating alone as a one-man crime wave - pimping, 'protecting' and extorting from tin-pot gamblers, sly-groggers and drug pushers, conning and mugging ordinary citizens - and leading his gang, the Darlinghurst Push. One of his pièces de résistance was to join a drinker in a pub, tell a few jokes and buy him a beer or two then talk his new found friend into accompanying him out into the night in search of more alcohol, drugs and women. The friendship would last until Calletti found a dark and deserted area. He would then attack his mark and steal his money. In October, 1927, Calletti slashed one Jules De Flyn in a house in Cathedral Street, Woolloomooloo. De Flyn suffered deep wounds to his throat, right ear, the back of his neck and left arm.